Paihia
Paihia
Paihia is the hub of the Bay of Islands, where bus tours to other areas leave and boat trips around the bay begin. Paihia has a variety of accommodation types available and is almost wall to wall motels along both the waterfront and the road entering town. This means that, except in the height of the season, around Christmas, it is relatively easy to find accommodation.
Te Tii Bay at the north end of Paihia is a popular beach for swimming and fishing. Its shore is lined with pohutukawa trees, and in late November and December when the trees are in bloom, the waterfront is a spectacular blaze of red. At the south end of the beach there is a children's playground that is always popular. North of the beach, to the left of the bridge to Waitangi, is local sailing ship 'Tui', renovated as the Kelly Tarlton's Shipwreck Museum, where many underwater finds are displayed.
From Paihia you can take a ferry across to Russell, or it is a short drive (or thirty minute walk) to Waitangi where, on 6th February each year, the signing of the Treaty of Waitangi is commemorated and a carnival held. This is a great day to visit our most important heritage site. Waitangi Day is one of the rare occasions when the great waka Ngatokimatawhaorua, is taken out on the water, paddled by nearly a hundred young warriors.
In May/June the annual Matariki (Maori New Year) festival takes place. Here you can participate in activities with a Maori focus. This is an opportunity to learn about, and meet some of New Zealand's indigenous people.
In May the sound of country music echoes around the bay. This annual Paihia Country Music Festival has events in Paihia, Russell, Waitangi and Haruru Falls. It is easy to move between venues so that you do not miss hearing your favourite musicians. In August The Bay of Islands Jazz Festival is held over a weekend at the same four venues. This is a must attend event for those who love jazz.
In addition to tours and festivals, Paihia offers many outdoor activities; coastal and bush walks, paragliding, kayaking, sailing, swimming with dolphins, paintballing and mini golf. There are numerous restaurants, cafes and shops. Wander down to Paihia's centre, the wharf area, book the tours you would like to take, or if you enjoy people watching, sit in the sun and observe the comings and goings both on and off the water.
---

Featured Paihia Events
---
Tour Paihia

Tour Paihia Area
Sanctuary Palms
- Apartment.
Overlooking the Bay of Islands, Sanctuary Palms is 5 minutes' walk from Paihia Beach. All suites feature a spa bath and...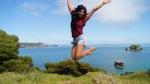 The Rock Adventure Bed & Breakfast Cruise - 16 Hours
- Adventure Tour - Paihia.
Starting from $228.00 per person
.
Immerse yourself in the Bay of Islands...
The Ultimate Bay of Islands Boat Cruise!
The only overnight cruise in...